The Effect of Orego-Stim on Cryptosporidia in Calves
SUMMARY
Cryptosporidia is the major cause of calf scour (57% of cases) in early life with significant cost to the dairy industry (£32 - £154/calf (Gunn, 1997)).
Orego-Stim Liquid, when included in milk at 10ml/calf/day for 10 days, significantly reduced Cryptosporidia shedding in dairy calves.
BACKGROUND
Cryptosporidia is a major cause of calf diarrhoea (scour) causing long term damage to the gut lining, reduced nutrient absorption, poor growth performance and can ultimately prove fatal (Thomson, 2017).
The peak of shedding oocysts is in the first 2 - 3 weeks of life, therefore, early intervention to prevent this significant protozoan from multiplying is essential.
Orego-Stim is a high quality phytogenic eubiotic containing 100% natural and unique oregano essential oil.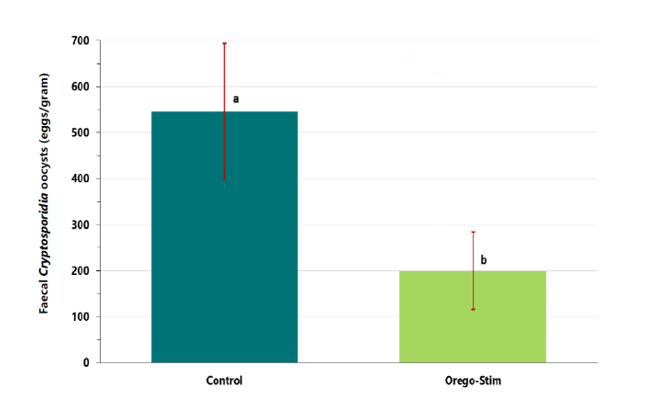 Cryptosporidia was

 

only detected in faeces between days 3 – 21

 

(trial length 78 days).

Calves offered 10ml Orego-Stim Liquid had lower counts of Cryptosporidia in faeces (p=0.02).

Calves offered 10ml Orego-Stim Liquid numerically gained more weight in the first 10 days (597g/d vs 411g/d; p=0.11).

Orego-Stim Liquid was shown to have a significant benefit in reducing Cryptosporidia shedding in dairy calves offered waste milk.
TRIAL DESIGN
A pilot study was carried out at the University of Reading in the UK. 10 male Holstein dairy calves were assigned to one of two treatments at 2 days of age.
Treatments were:
Control: with no supplements in the milk,
Orego-Stim: with 10ml/calf/day of Orego-Stim Liquid added to the milk.
The milk used was unsaleable, waste milk from the University dairy herd. Orego-Stim was included in both the morning and evening feeding (5ml in 2.5 litres milk) for the first 10 days only.  
All calves then received the same milk and concentrates until weaning at day 60.
Calves were individually housed until 21 days of age then housed together in a straw pen until the end of the trial at day 78. 
Faecal samples were taken on days 0, 3, 7, 10, 14, 21, 56 and 70 for analysis of Cryptosporidia shedding.
WANT TO SEE THE BENEFITS FOR YOURSELF?
---