Orego-Stim® Liquid - Kevin Finnemore - NSW
Kevin Finnemore, a breeder of Kings and Modena Pigeons, based in Australia says:
"I am a breeder of Kings and Modena Pigeons. Like many breeders, I am aware of the risk Salmonella and various diseases pose to my birds, as they are very difficult to keep on top of.
Two year ago, I made a phone call to Anpario and they suggested a programme which included Orego-Stim Powder and Orego-Stim Liquid, which in turn helped control problem-causing bacteria build-up in bird feed. Plus adding a prebiotic at the same time.
In summary, this breeding season, my birds have produced a greater number of viable eggs, which have resulted in more quality chicks than in previous years. I feel they have been better supported nutritionally and benefited from Orego-Stim being part of the ration."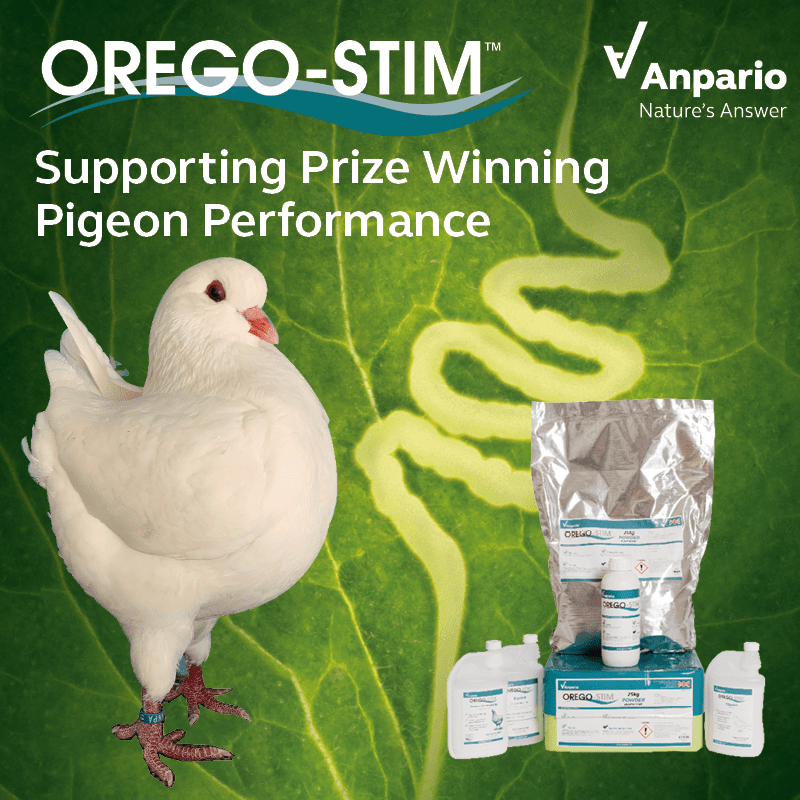 The Orego-Stim Range is Anpario's 100% natural oregano essential oil range, with both liquid and powder forms.
 Antimicrobial action help support the immune system.
Antioxidant properties support muscle maintenance which is helpful during flight and aids post-race recovery.
Supports drier and firmer droppings in your pigeons.
Helps birds develop a well-balanced and diverse gut microbiota.
---